Discover more from Real Feel
A semi-regular dispatch about semi-irregular emotions.
Just to stay alive

The other night I sat up sewing masks. This is something I've been doing since the start of the pandemic—my grandma taught me to sew at 10, and I finally flew my machine from Texas to New York. At first it was an adventure in relearning; now it's mechanical. I can bang out a dozen masks or more in a day and have started branching out by request, experimenting with lace overlays, fringe, trim. I embroidered a crab on one for a Cancer friend. I had never embroidered anything in my life, but it turned out crablike, more or less. In the background fireworks went off, as they have every night for close to a month. I don't know if I believe the conspiracy theories about them: that they're an NYPD revenge tactic, a psy-ops intended to destabilize. I do know that at this point I barely hear them; they've become the white noise of summer nights. It's amazing what we can adapt to.
It's amazing what becomes normal, what we accept as a matter of course. At one point I stopped and actually thought about what I was doing: sewing plague masks for people I love, people I don't know, people I don't want to die. Sewing plague masks as the flash-bangs sounded around me, like a scene from 1943 except I'd just eaten ice cream made from oat milk. Sewing masks to try to play a tiny role in preventing a killer virus from spreading, protesting to try to play a tiny role in preventing Black people from being murdered by police, donating to try to play a tiny role in dismantling the racist structures that make up our racist society. All of it trying to help other people, each other, succeed in the most basic human impulse: staying the fuck alive.
If you need a mask, reply to this email. If you're Black or a blood relative, it's free. If you're not, it's $15. Once the cost of supplies is covered, all remaining proceeds will be donated to G.L.I.T.S. Inc. I'm also not sure how to categorize the pieces that follow, so this month I'll do away with section breaks.

What Is Owed - The New York Times Magazine - Nikole Hannah-Jones on how the widespread national support for the Black Lives Matter movement makes the case for reparations.

My Body Is a Confederate Monument - The New York Times - Caroline Randall Williams explores the interplay between rape culture, the Confederacy, and her own lineage.
What Is an Anti-Racist Reading List For? - Vulture - I've seen a lot of these reading lists circulating, and while there's surely some good to be gleaned from reading these kinds of books, the lists themselves are fundamentally flawed: "For such a list to do good, something keener than 'anti-racism' must be sought," says Lauren Michele Jackson. "The word suggests something of a vanity project, where the goal is no longer to learn more about race, power, and capital, but to spring closer to the enlightened order of the antiracist. And yet, were one to actually read many of these books, one might reach the conclusion that there is no anti-racist stasis within reach of a lifetime."
I Wish I Knew How It Would Feel to Be Free - The Paris Review - To speak out against Tony McDade's death "in earnest," writes Cameron Awkward-Rich, "requires that we rage not only against police brutality and the spectacle of black (trans) death but also against the routine, ordinary violences that inhere in poor, black, mad, gender-nonconforming life."
We Picked the Wrong Side - The Paris Review - Neel Patel encapsulates how anti-Blackness plays out in other communities of color—something he observed firsthand growing up.
In Defense of Looting - The New Inquiry - This piece by Vicky Osterweil published in the wake of Mike Brown's murder in Ferguson, Missouri, is still (unfortunately) relevant.
8 Journalists on Reporting While Black - Glamour - I've seen a lot of pieces in this vein, including this one from Poynter, and this one from the Los Angeles Times. I like the Glamour article because it lets you hear from different journalists who have distinct perspectives on how their coverage overlaps with their identities as Black women.
How Apples Go Bad - The New Yorker - Helen Rosner expands on a surprisingly apt metaphor.
Notes from One Year on Testosterone - The New York Times - My friend Linden Crawford wrote this incredible essay on their experience with hormone replacement therapy (HRT), gender panic, and becoming the person they want to be. I can't recommend it enough.
New-World Sourdough Is Hardly New - Taste - And my friend Dayna Evans interviewed baker Bryan Ford about decolonizing the world of bread baking.
As for me, I spent a good chunk of last month editing Jeff Sharlet's feature for Vanity Fair about the role religion plays in Trump rallies. Immersing myself in that world for extended periods of time was a true mindfuck, but I think the resultant piece communicates something vital about the deranged groupthink of the president's most devoted followers. If you're so inclined, give it a read.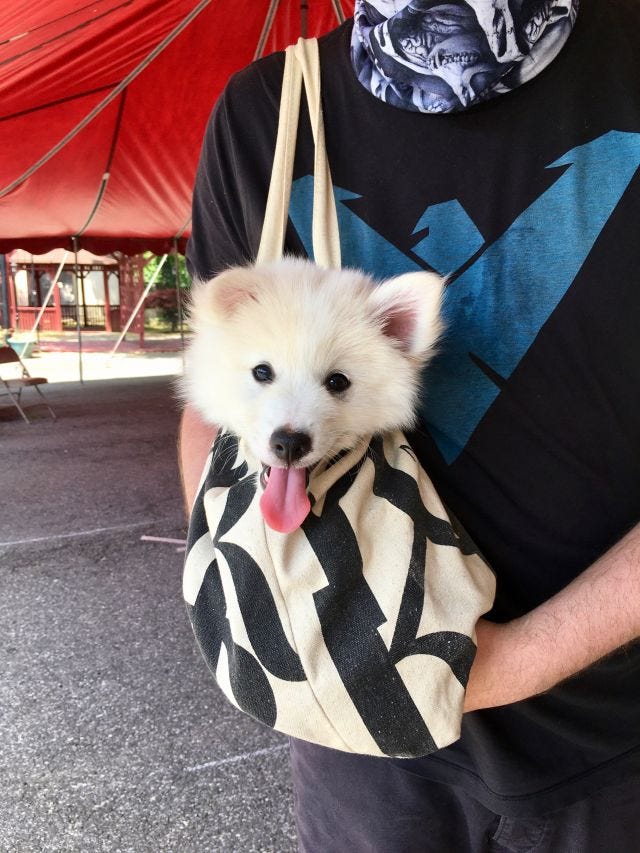 Something else I've been doing is volunteering at a farm stand in my neighborhood on weekends. This guy stopped by the other week and brought me so much joy. I hope he does the same for you. (And yes, he has an Instagram account.)

This newsletter is keeping its mask on.
Subscribe
here
, then
read about
why.